That was the moment I knew I had made the right choice.  Not that there weren't other amazing moments during my Africa photo experience, there were so many, but when that one curious elephant splashed me and then gently sprayed water toward me, I knew this was the best detour I could have ever taken.
Stay connected on the opportunity for a Summer 2021 adventure
Keep Me Informed
When I say I took a detour on my way to the Arctic, that's exactly what I did.  This year I was able to add a 7 day stop in Botswana with Pangolin Photo Safaris on my way to meet my fellow symposium guides in Arctic Norway.  Not a short detour, but a detour none-the-less. The visit was two-fold.  One reason for visiting was, of course, the opportunity to capture wildlife I had only ever seen in zoo's, on T.V. shows or in magazines.  It was a chance to see wildlife being…..well…..wild.  And the other reason was to see my friend and fellow polar symposium guide Gerhard "Guts" Swanepoel and to check out his amazing guided operation and the "about to open" new Lodge/Hotel.  From the time I landed, the hospitality from everyone at Pangolin was exceptional.  I felt like an honoured guest and they helped me feel welcome at every turn. I was able to experience the photography adventure of a lifetime within the Chobe National Park which is just a stone's throw from their new Lodge. My first adventure was one of the many trips along the Chobe river where the wildlife was wonderful and abundant.  The river is one of the best places to view wildlife as eventually, everything needs water, right?  The shooting boats I had access to are legendary on the river and have been designed specifically to help photographers get those once in a lifetime shots.  Not only that they also provide high-quality Nikon and Canon DSLR's with telephoto lenses so if you don't have the gear, no worries, they have you covered!!  I mean just check out the photos of the shooting boats complete with gimbals and comfy seats.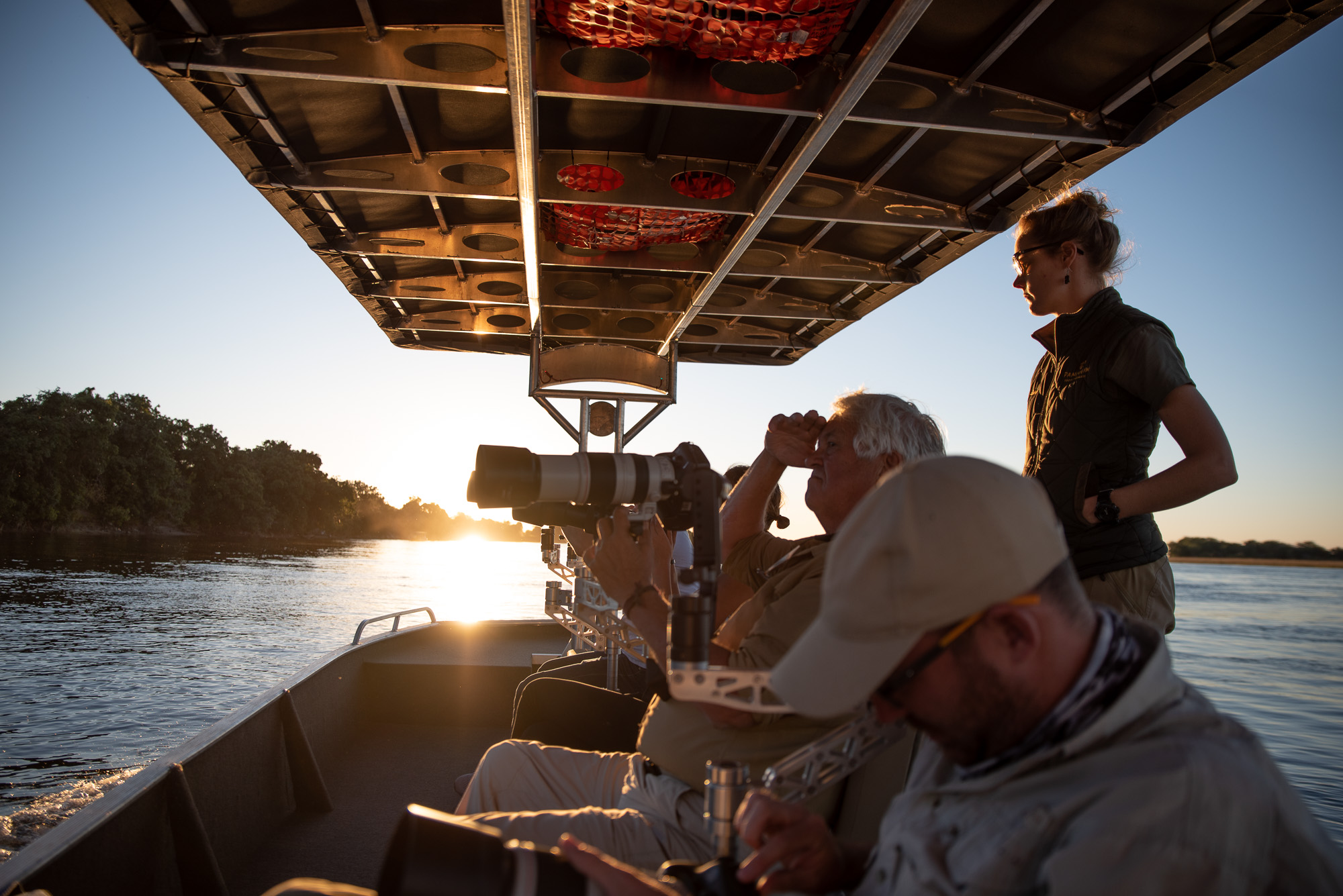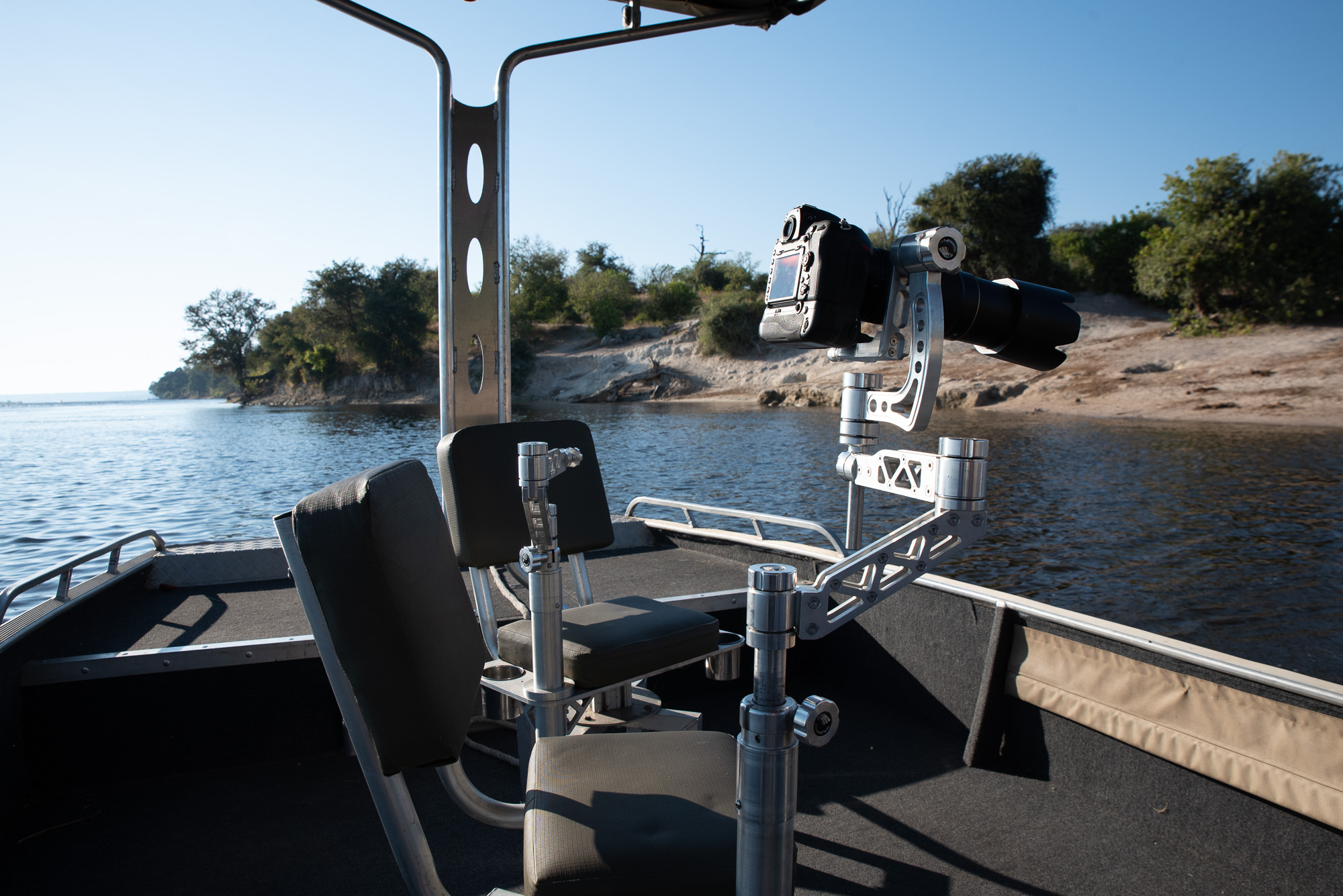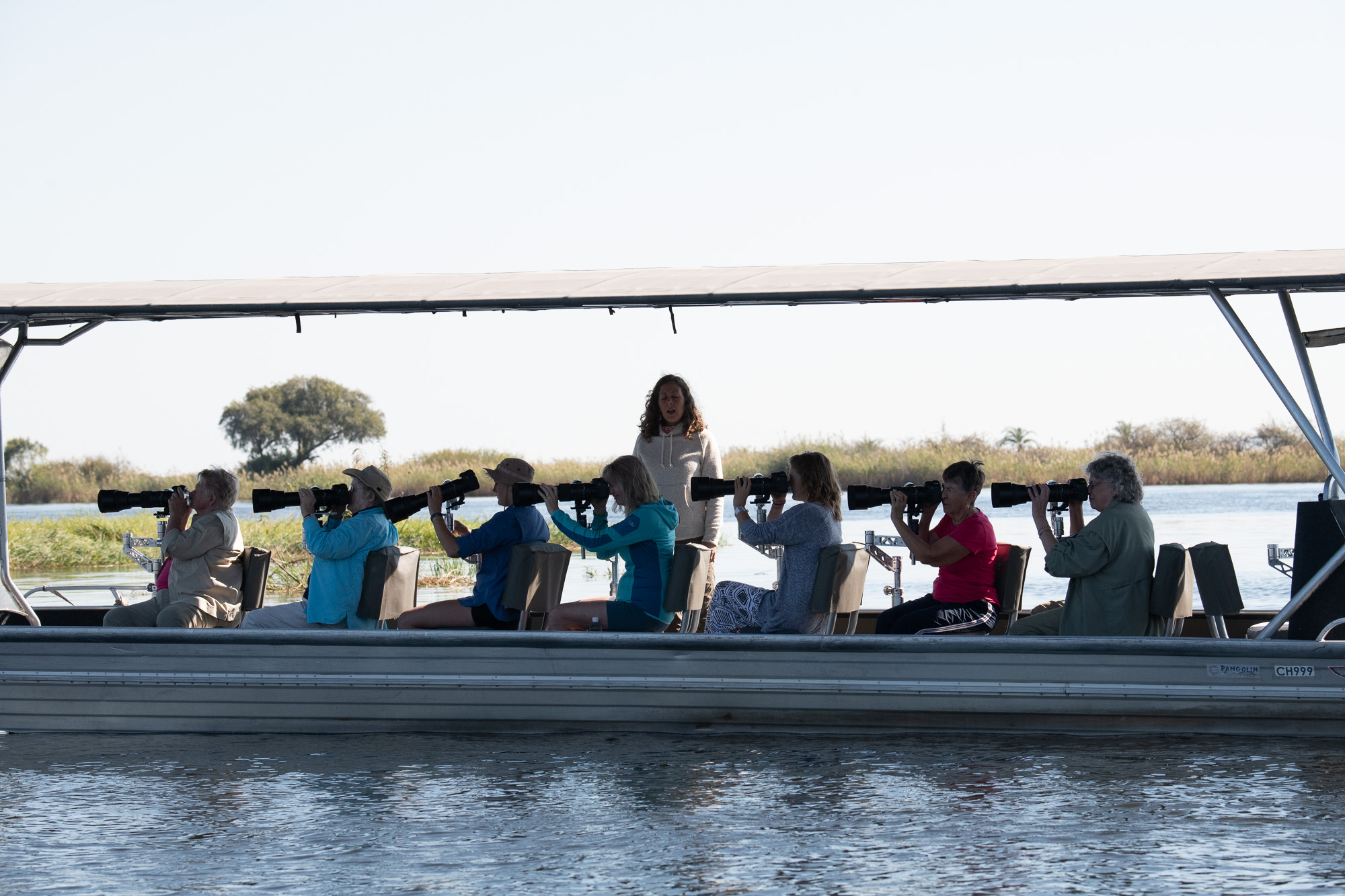 Each time I went out we had an experienced photo guide.  These are not simply tour guides but each guide is an experienced wildlife photographer to help everyone get great images.  Even though I'm already an experienced photographer, the flow of information and tips helped me be prepared for all the opportunities unfolding. The drivers were highly experienced at positioning the boat to help everyone get great angles to photograph the wildlife that just kept presenting itself.  I can't recommend this experience highly enough.
On land, we took a couple of early morning safari's into the park and again our experienced guides and driver gave us the best chances for amazing photographs and helped everyone with settings and gear as they needed it. it was an early start and the days started out chilly which was no problem as Pangolin ensured we were prepared for the cool morning with thick blankets to wrap ourselves in until the sun warmed everything back up again.  While I prefer the river experience, I wouldn't miss an opportunity or two to get on one of the Land Rovers and do an inland park safari.  The images of the Leopards were possible because we took that early trip deep into the park.
The new Hotel/Lodge
Unfortunately, I was visiting just weeks before they were finally ready to open the Lodge but I did get the tour and I have to say, once again Pangolin has exceeded expectations.  The atmosphere inside is created by a masterful mix of concrete and natural elements not only feels "high end" but it also feels grounded and connected to the natural environment that is Africa.  While there, we experienced the first ever pizza from the outdoor stone pizza oven and I got to see the starry sky view over the infinity pool.  This was the kind of place I had dreamed about creating an amazing photography retreat at, and that is exactly what I'm planning on doing.
#AFRICA2021 is going to be that photography retreat. A 7 day a mix of Lodge, River and fly in Khwai Camp experiences.  I would love to have you join me on this lifetime experience.
Stay connected on the opportunity for a Summer 2021 adventure
Keep Me Informed
Join the mailing list for all my news and opportunities including 2020 opportunities if you just can't wait for August 2021
Yes Please!